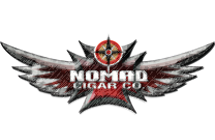 Sometimes you have to do something outright fun…no matter what the odds or what anyone thinks.
My latest project, starting the Nomad Cigar Company, is one of those things for me.
I have always enjoyed a good cigar and have lots of friends that are in the industry. Maybe it was the constant nudging from them that, finally, had me launch my own brand.
Like every other company I have started it had to be unique – or at least offer something fun and new.
I wanted the company to be fun. I wanted it to be social. And I wanted unprecedented access to "the guy."
Right out of the gate Nomad made waves. We were not doing everything the way you were "suppose to" do it. I solicited feedback on new blends. I learned everything I could…and I didn't pretend to know what I didn't.
I was the first cigar maker to actually push social media so far that I even put my own Twitter account name right on the band (@Godfadr). We also took a very strong commitment of supporting brick and mortar stores and pulled our online direct-to-consumer sales early in the process.
As far as cigars go, Nomad blew up in the first six months. Matter of fact, the buzz was out faster than the cigars*
*Some people like to say, "that is a good problem to have" but I think you just want people to have your sticks.
In 2012 we launched one size. By Fall it was five sizes. By January 2013 it was seven.
In July 2013 we are introducing our Nicaraguan line at IPCPR. So far the response has been overwhelming and we are truly grateful for the guidance and support we have received.
As the company continues to grow we will be focusing on more and more ways to give back to those that make the cigars, have lots of fun with our raving fans, and just generally causing mischief wherever we can.
You can read more about mailing kittens, supporting Mom and Pop, and the Nomad Cigar Company here.